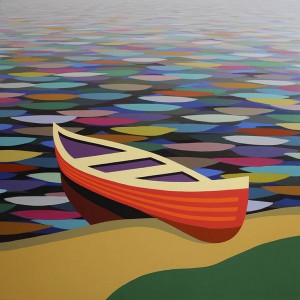 Kurt Swinghammer, The Red Canoe Series —
Just Arrived: Two new 48″ pieces and a  24″x24″ (above)
The Red Canoe Series is an ongoing body of work in which the
composition remains unchanged, but the colour relationships of
the water are unique each time. The initial inspiration was to find
an image that related to landscape painter Tom Thomson,
who was the subject of a song cycle that I wrote and recorded
called Turpentine Wind. One of my goals was to depict an iconic
Canadian subject matter in a contemporary manner.
—Kurt Swinghammer
Kurt Swinghammer is a Toronto-based musician/visual artist. He has established a diverse career as a singer/songwriter, film composer for CBC's
The Nature Of Things, session guitarist for artists including Ani DiFranco, Serena Ryder, and Royal Wood, producer for Ron Sexsmith, co-writer with
x-Bahaus Goth icon Peter Murphy, art director of music videos for rapper Maestro Fresh Wes, illustrator of a children's book by Stompin Tom Connors,
T-shirt designer/ artist for Barenaked Ladies, CD cover designer for The Art Of Time Ensemble, Stuart McLean, and The African Guitar Ensemble, and wardrobe designer for the jazz group The Shuffle Demons. He has been the cover story of NOW Magazine, Artist Of The Week on Bravo's Arts & Minds, and is represented in the permanent collection of the Canada Council Art Bank. He has won Best Local Guitarist in the annual NOW Magazine Reader's Poll. In 2012 he was the first Artist In Residence at The National Music Center in Calgary, and is currently an artist endorsed by the legendary synthesizer company Moog Music.
Works available: Red Canoe Series, 2014. Acrylic on canvas.
48" x 48"  and 24" x 24"