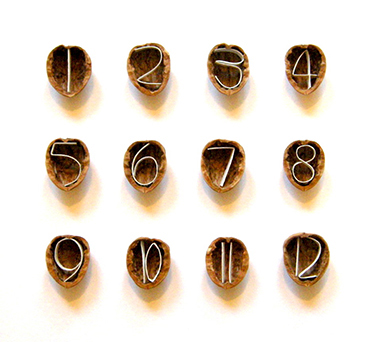 Nutty — 
New constructs by Michael Bowness
November 20 – Show Extended until December 24
Opening: Thursday, November 20 from 6-8 p.m.

Nutty is a show of constructs by Michael Bowness. Using one of the earliest foods consumed by primitive man, Michael uses walnut shells as his "canvas" alongside a collection of found stone sculptures.

Artist Biography
Michael Bowness was born in 1937 off the coast on England in the Irish Sea on a small island called Walney. He was fifteen years old when his family emigrated to Ottawa as his father was made Assistant Director of Submarines for Canada.
Michael graduated from the Ontario College of Art in 1967 winning the Bronze Medal for Proficiency in his year. His career as an Art Director, Illustrator, and Sculptor spans over 35 years and he has been honored with many awards, including a Juno for Best Album Cover and a contributor to the book "Caribou and the Barren Land" which won a Governor General's Award.
Michael lives in Toronto. He enjoys riding a bicycle, walking, and, eating walnuts.
Image: 12th of Never