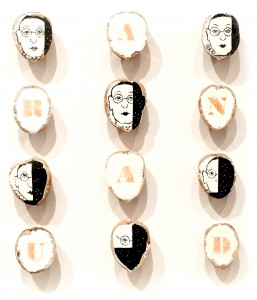 IRRESISTIBLE BOWNESS
Artist makes whimsical marvels from organic materials
MICHAEL BOWNESS at Verso Gallery (1160 Queen West), to December 24. 416-533-6362. Rating: NNNN
---
The white Pierrot face of artist Arnaud Maggs, painted delicately on tiny pieces of paper affixed to open walnut shells, is just one of the understated marvels in Michael Bowness's tidy, compact show, Nutty.
This portrait (or, rather, portraits) of Maggs, a long-time associate and friend, bears witness to a lifelong practice of making subtle assemblages and sculptural objects that wear their whimsy gracefully.
Bowness subjects organic objects from around Toronto to contextual sleight of hand.
He positions water-worn bricks fished out of lake Ontario with bits of wire, morphing them into odd little proto-animals. Fallen from a 19th-century foundry long since demolished, the bricks also speak to the creative repurposing that drives the ecology of the city.
The walnut shell series makes up half the show, the objects in wall-mounted glass cases bringing Joseph Cornell's dream boxes to mind. In 12th Of Never, crisp hand-twisted paper numbers nestle in individual shells. It's both cryptic and formally precise, taking us back to a point where number intersects with figuration.
In Beaver Lodge, inverted shells stand in for the fat bodies of beavers swimming on a printed blue lake. It's a scene that borrows heavily from the artsy-crafty chic of the DIY 70s, serving as an aesthetic time capsule. It's also strangely pleasing and unmistakably Canadian.
The show's modest scale means these tiny, carefully constructed objects are easy to miss. On further scrutiny, however, they're impossible to overlook.
Image: Michael Bowness. Arnaud. Walnuts, dental plaster, ink. 2014